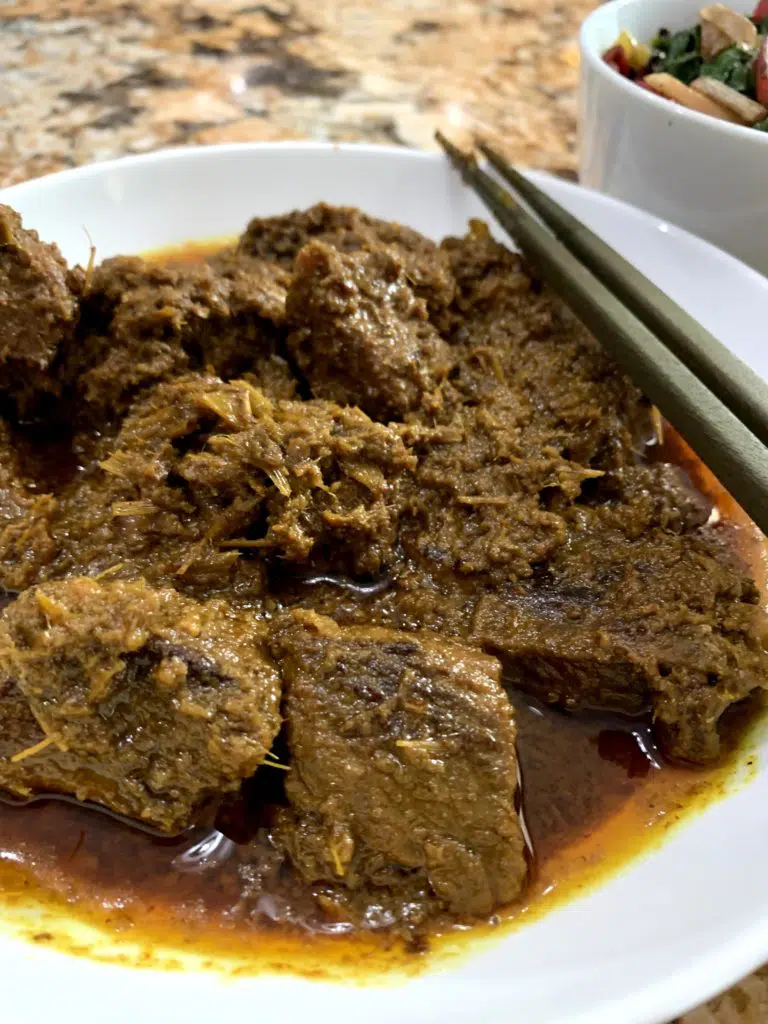 One of the most popular Malaysian Curry dishes is a Rendang, which can be made with beef, chicken, or lamb. Rendang does not originate in Malaysia but from neighboring Indonesia. It is now a favorite in Malaysia and commonly served at celebratory events. It is a great example of Malaysia's historical international influences. It combines many rich aromatic spices such as cinnamon, cardamom, and star anise as well as fresh aromatics including lemongrass, garlic, ginger, and galangal. It is a real eclectic mix of spices from around Asia and as far away as the Middle East. It is then mixed with coconut milk to make a thick sauce. It is so loved as Rendang should produce tender meats that are surrounded by an intense and unforgettable flavor.
This recipe may not be the most traditional way to make a rendang, but it's very easy and tastes just as delicious! It is simplified recipe that uses Mama Lam's Malaysian curry paste.
Servings: 2
Prep Time: 15 min
Cook Time: 1 hour 15 min
Ingredients:
1/4 cup water

40 grams ginger (sliced)

30 grams lemongrass (cut)

50 grams fresh turmeric (cut into 1/4″ pieces – skin on or off)
7 tablespoons oil
4 tablespoons Mama Lam's Malaysian curry paste
1 cup coconut milk
1 lb beef (short rib or brisket)
Instructions:
Blend the water, ginger, lemongrass, and turmeric into a paste.

In a nonstick or cast iron pot, heat the oil.
Once heated, add the blended paste and cook on medium low heat until fragrant.
Mix in the curry paste and let it cook for another 2 minutes.
Add in the beef and mix until beef is covered in the sauce.
Add the coconut milk
Bring it to boil and once it's boiled, turn the heat to low and simmer with a cover for 1 hour. Make sure to check every 20 minutes to give it a stir to make sure it's not sticking. You might need more than an hour so your beef is more tender. 
Tips:


Use a cast iron pan or pot if you have one! We loved how it came out using the cast iron. 
Use the smallest burner once the coconut milk starts to boil. You want to deliver heat to the pot but not too much where your dish will burn after 20 minutes. We started on the largest burner on our stove and shifted to the smaller one to simmer for an hour.