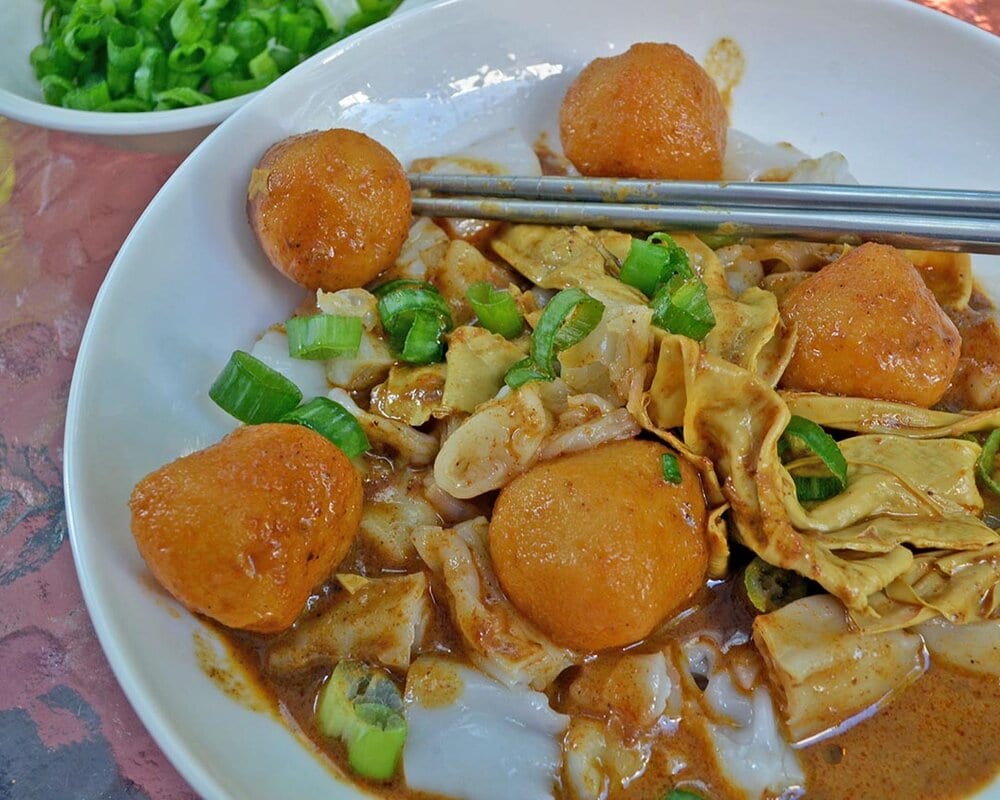 Mama Lam's Malaysian curry fishballs and tofu skins with cheong fun noodles
You guys asked for a curry cheong fun noodle recipe, so here you go! Hope you enjoy!
Any Topping Substitutions?
This dish can really go with any toppings, if fishballs isn't your thing. You can try other vegetables (such as eggplants and tomatoes) or add a meat. Even enjoying it on its own is tasty enough.
The longer you let the noodles cool down in the cold water bucket, the more it solidifies. However, we wouldn't recommend letting it sit more than 2 minutes.

You can brush oil on the cooled down noodle before scraping off. Then brush some more oil on to keep it from sticking to each other.

The noodles can be made and refrigerated for a few days or even frozen! So you can save some time on making this dish.

With the extra sauce, you can dip bread or roti in it or just slurp it up.
Servings: 3-4
Prep Time: 5 minutes
Cook Time: 30 minutes
Ingredients
1 cup chicken broth
2-3 tablespoons of Mama Lam's curry paste
1 package of fishballs
1/4 cup coconut milk
1 cup rice flour
1/2 cup tapioca flour
3 cups water
Scallions (diced, as garnish)
Directions
Cook fishballs with 1 tablespoon of curry paste.

Add chicken stock and 1-2 tablespoons of curry paste. Let it boil.

Add coconut milk and let it simmer for about 10 minutes. Then, set it aside.

Boil some water in a pan and add the steamer rack.

Once boiled, add the plate in to warm the plate.

Then, spread some oil on the plate to avoid sticking.

Add a super thin layer of the flour mixture in the pan. Let it steam for 1 minute and 30 seconds on low heat.

Remove from heat and let it sit in a bucket of cold water for 1 minute.

Now, you can scrape it off the plate. Wet the scraper with oil or water to avoid it from sticking to the noodle.

Repeat the steaming process until you're done with the mixture. Or you can make as many noodles as you'd like and then store the remaining mixture in the fridge. It should keep for a few days.

Cut up the noodles and top with the curry sauce and fishballs. Garnish with diced scallions.