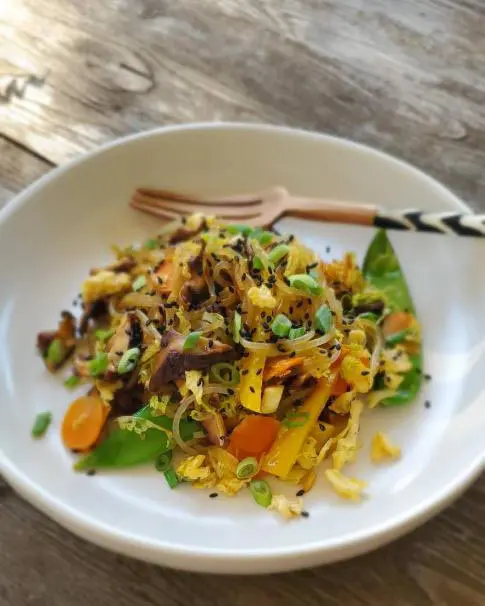 Britta Kramer, founder of Private Palate, is an artist at heart, a world traveler, a curator of experiences, and a formally trained chef who loves to share her root to blossom philosophy. Britta believes in preparing fresh, local, whole foods while focusing on mind, body, and environment with an emphasis on intentional living. Inspired by the many chefs she has collaborated with during her travels, Britta incorporates countless styles of cooking and ingredients of each culture. She refers to her food philosophy as a clean take on world cuisine. Follow her on Instagram for daily inspiration and more recipes – @privatepalate
Active Time 15 minutes
Serves 4
Ingredients
Sweet Potato Noodles
1 ½ Tbsp. Coconut Oil
1 onion, sliced
1-inch fresh ginger, peeled and grated
1 cup shiitake mushrooms, sliced
1 carrot
1 cup shredded savoy cabbage
1 cup Snap Peas
1 Tbsp Mama Lam's Curry Paste
2 large eggs
Black sesame seeds
3 scallions, sliced (green and white parts separated)
Sesame oil, drizzle
Instructions
Boil a medium sized pot of water. Add noodles and cook for 5-6 minutes. Strain noodles and quickly run them under cold water so they don't stick together.

Heat a medium-sized Saute Pan. Add ½ tablespoon Coconut OIl. Once oil is hot, add mushrooms and saute until golden brown. Season with salt and place mushrooms in a bowl and set aside.

Add remaining Coconut oil to the hot pan. Saute onions for a minute or until translucent. Add garlic and ginger. Saute for one minute. Add carrots, cabbage and snap peas. Saute for 2 minutes, season with salt and set aside with the mushrooms.

In the hot pan, crack two eggs and sprinkle with salt and chopped scallion white or garlic chive if available. Stir constantly until you have a soft scramble. Remove from heat.

Mix 1 Tbsp Curry Paste with 1 Tbsp water.

Saute noodles with curry paste in a hot pan. Add all veg.

Garnish with a drizzle of sesame oil, scallion greens and black sesame seeds.