Malaysian food is becoming extremely popular on a global level and there are a lot of reasons for that. Many delicious parts of Malaysian cuisine have varying Eastern influences that include Chinese, Indian and Malay. In some ways it's similar to Indonesian food, with the two nations sharing many of the same dishes. There are some classic Malaysian dishes that are well worth trying, replicating in your home or even experiencing in the country itself. With that in mind, here are some of them.
Curry chicken
A curry chicken recipe is a staple when it comes to Malaysian cooking. It is decadent and has Malaysian cooking and flavors at the heart of it. There are unlimited ways of making Malaysian-style chicken curries and various recipes to discover. Mama Lam's recipe is considered a dry curry but it is quick and easy, and very versatile. With just a few easy-to-find ingredients, you can learn how to cook curry chicken at home. The great thing about it is that you also don't need to stick with chicken. You could swap the chicken for shrimp or even veggies to make it vegetarian if you preferred. It is a versatile dish that will become a staple in your home as you may even amend and change to suit your loves and the things you like.
Nasi Kerabu
Nasi means rice and Kerabu means salad – but it's not your typical "salad". What stands out the most about this dish is the rich blue rice! Its colors come from the telang flowers, which are crushed and mixed into the rice. The dish is served with bean sprouts, fried coconut, sambal, fried chicken, stuffed green chilis and/or deep fried fish. It is also a favorite dish amongst locals, especially for breakfast!
Rendang
A rendang is sometimes considered a dry curry but the flavors are still very different. Rendang is slow-cooked with coconut milk and spices to create a rich and tender stew. It can be cooked with chicken, beef or lamb. The meat is cooked for a long time, allowing it to soak up the flavors. The liquid then evaporates and coats the meat perfectly. It is favorite amongst festive seasons and can be found across the whole of Malaysia.
Laksa
Laksa is a staple amongst Malaysian and other Southeast Asian cuisines and there are many different variations of this throughout Malaysia itself. It is basically a spicy noodle soup. One popular laksa is curry laksa, also known as curry mee. Curry laksa has a coconut-based curry soup with savory and spicy flavors served with egg noodles and/or rice noodles. Other popular laksa dishes include Assam Laksa, Sarawak Laksa, Johor Laksa, Kelantan Laksa, Nyonya Laksa. All of which vary in taste and flavors, but are so delicious!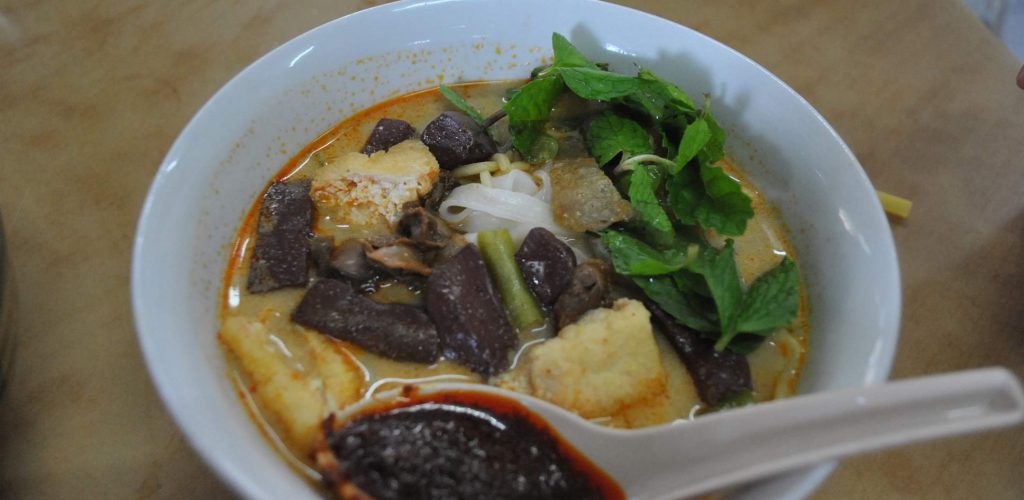 Roti Canai
Roti canai is a popular breakfast and snack dish in Malaysia, and one of the most famous examples of Malaysian Indian cuisine. It is said that the dish was brought over from India by Indian Muslims, also known as "Mamaks" in Malaysia, and is served in Mamak stalls located in both rural and urban Malaysia. Roti is a flaky flatbread and is typically accompanied with a curry sauce for dipping. Roti can also be made with sugar for a sweet dessert!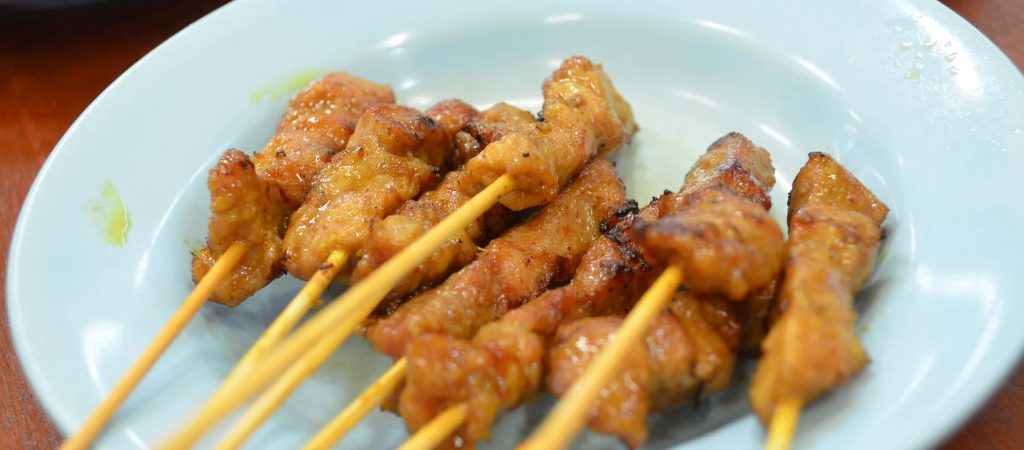 Satay
Satay, or sate in Indonesian and Malay spelling, is a Southeast Asian dish of seasoned, skewered and grilled meat, served with a peanut sauce. It has to be one of the most commonly known Malaysian dishes. Satay can be eaten with different meats such as pork and beef, but it is more popular with chicken. The best thing about satay is that traditionally no silverware is needed. You would take the skewer of meat, dip in the sauce and enjoy. It's a perfect afternoon snack or appetizer at dinner!
Nasi Lemak
Nasi lemak is a Malay cuisine dish consisting of fragrant rice cooked in coconut milk and pandan leaf. The rice is accompanied by crispy fried anchovies, a hard boiled egg, sliced cucumbers, roasted and salted peanuts and most importantly a sweet and spicy sambal sauce. Some places will have add-ons like fried chicken or curried chicken.
Lemang
This dish has been a great one to have as a meat or a vegetable dish which makes it so versatile. The lemang is a glutinous rice that is mixed with coconut milk and cooked in bamboo to give it a unique flavor. It can be a time consuming process but it is the perfect accompaniment to most popular Malaysian dishes. The bamboo is left over a fire to slowly cook the rice in a process which is known as tapai. This results in a sticky wet rice that can make a great substitute to regular white rice. Or it is a great side dish and one of the most common ones that you will find with most Malaysian dishes.