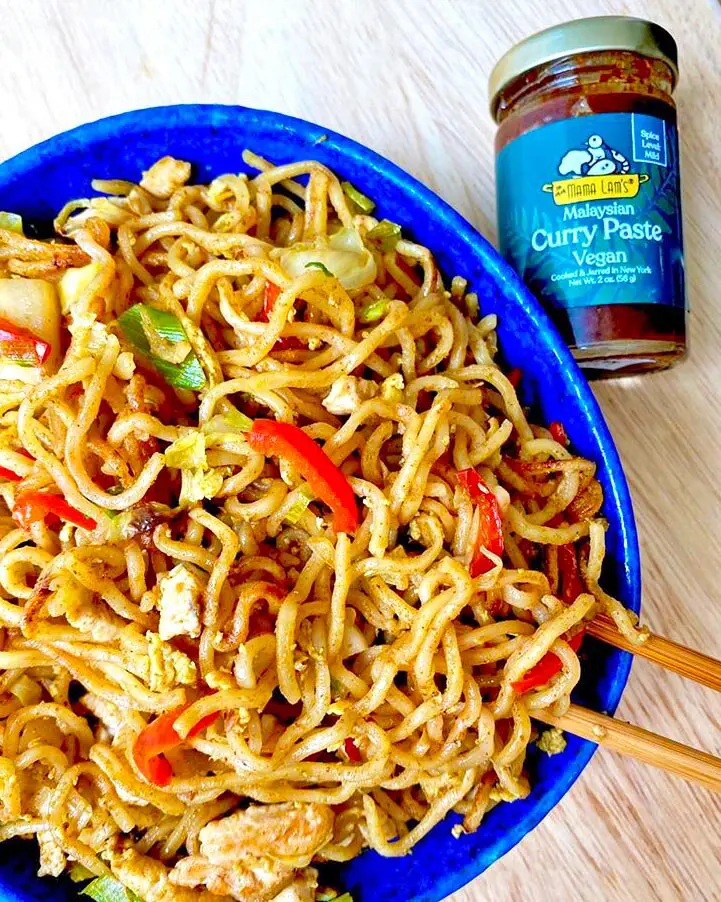 We have partnered with Chef Kelly Ruben to bring you this curry ramen recipe. Kelly is currently a personal chef and recipe developer in NYC. She graduated from culinary school and quickly began an apprenticeship in fine dining restaurants and eventually landed jobs at Michelin Star restaurants! We love that Kelly has this passion for food and she's created some delicious looking meals, so check out her Instagram!
So, back to the dish. Aside from Mama Lam's Malaysian curry paste, it only calls for six additional ingredients. This dish is made with chicken, but you can easily replace the chicken with tofu or other vegetables. Enjoy!
Servings: 2
Prep Time: 10 min
Cook Time: 15 min
Ingredients:
2 packets ramen noodles (cooked to package instructions)
2 Tbsp Mama Lam's Curry Paste
2 eggs (whisked)
2 cups cabbage (chopped)
1/2 scallions (chopped)
1 cup chicken breast (thinly sliced)
1 bell pepper (thinly sliced)
Directions:
Saute cabbage and peppers with a bit of oil and salt on high heat for a minute or two, until it starts to brown

Remove from pan and set aside

Add a little more oil to the pan to brown the chicken. The chicken does not have to be fully cooked through at this point.

Remove from pan and add to the bowl with the veggies

Add some more oil and then add the noodles in and add the chicken and veggies back in the pan.

Mix everything together in the pan.

Create a well in the center of the pan and pour the eggs in the center

Scramble the eggs and add Mama Lam's curry paste and mix everything together. Season with some salt if you would like.