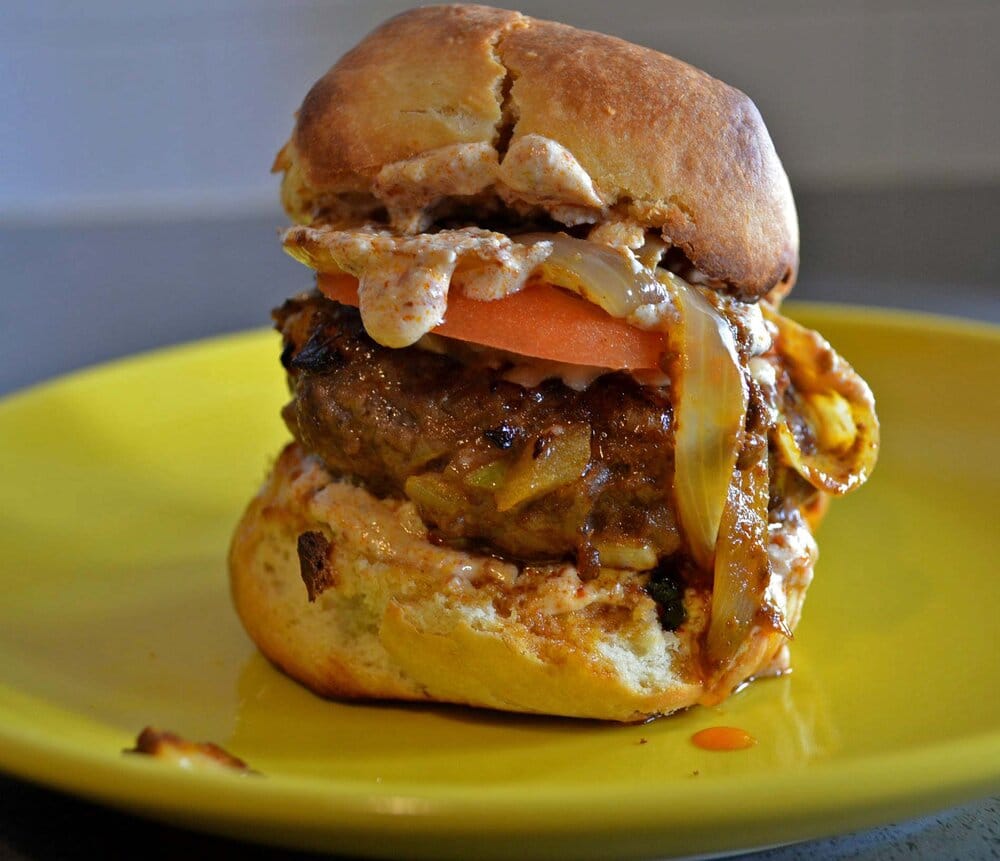 Authentic Curry with a Twist
Growing up, Mama Lam always made Malaysian curry chicken or Malaysian curry noodle soup, which were both delicious dishes. When we started Mama Lam's, we learned of all the new ways that people using our curry paste, which inspired us to get creative with our curry paste and hot sauce.
We decided to make a curry flavored burger by marinating the ground beef and diced onions with Malaysian curry paste. Then, topping it with one slice of tomato and curried onions for additional flavor.
You'll see in this recipe that we make a spicy sour cream to spread on the burger buns. This is spicy and light and adds a kick to the burger.
The results were beyond our expectations! So, give it try and let us know what you think.
Servings: 4
Prep Time: 20 minutes
Cook Time: 4-5 minutes
Ingredients
Burger Patty
1 lb of ground beef
1 tbs Mama Lam's Curry Paste
1 small onion (diced)
Curried Onions
Half medium onion – sliced
1/2 tbs Mama Lam's Curry Paste
1/4 cup water
Sliced tomatoes
Shredded Irish Cheddar
Spicy Sour Cream
2 dollops of sour cream
1 tsp Mama Lam's Hot Sauce
4 hamburger buns
Directions
1. Mix ground beef, curry paste and diced onions. Marinate for 15 minutes.
2. Saute sliced onions with curry paste, then add water. Simmer for 5 minutes.
3. Mix sour cream and hot sauce.
4. After beef is done marinating, round them into 4 patties.
5. Heat pan. Cook patty on each side for about 2-3 minutes. Once you flip, add shredded cheddar.
6. Put the burger together!