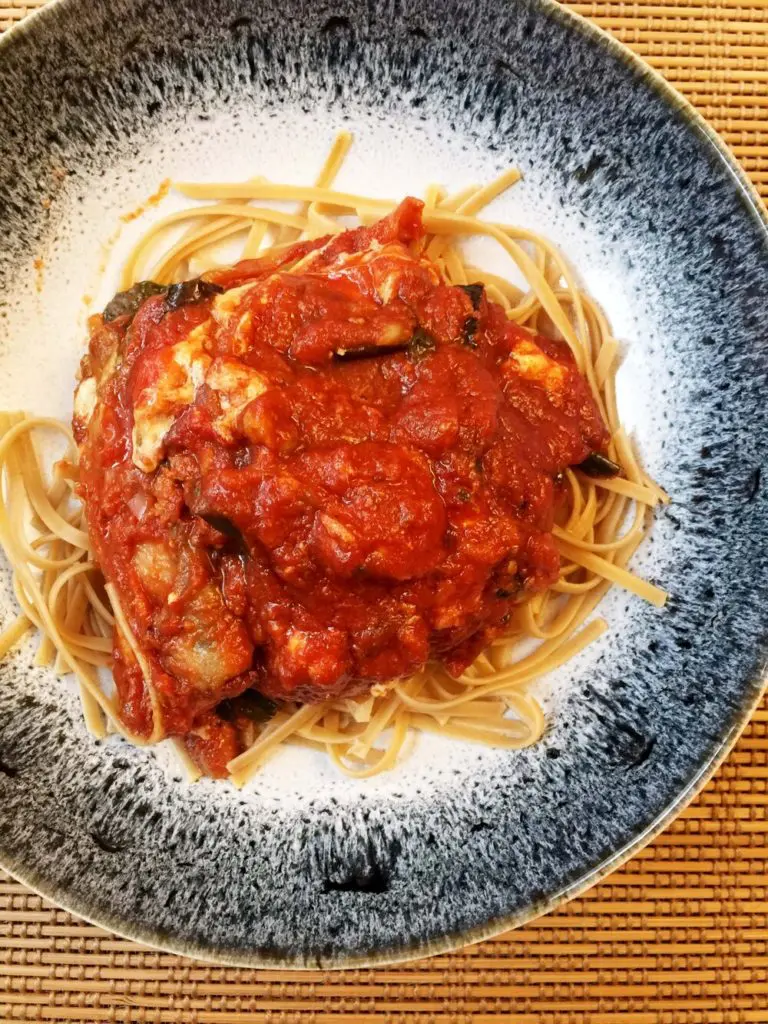 Servings: 6
Prep Time: 3 minutes
Cook Time: 20 minutes
Ingredients
For the marinara sauce:
2 tbs of oil (1 tbs to saute garlic and onions, 1 tbs once you add tomato puree and paste)
3 cloves of garlic (diced)
1 small onion (sliced)
1 x 28 oz can of tomato puree (or whole peeled tomatoes – hand crush each tomato)
1 x 6 oz can of tomato paste
1 tbs of Mama Lam's Hot Sauce (more if you want it spicier)
1/2 tbs of agave nectar
Pinch of dried oregano
Salt and black pepper to taste

For the eggplant parm:
2 large eggplants
1/2 cup of parmesan cheese
16 oz Bellagio mozzarella cheese (sliced)


Prepare the eggplant
Preheat oven to 425 degrees F.

Prepare sheet pan for the eggplant with a thin layer of oil to prevent sticking.

Slice eggplant into 1/4 inch slices and line it on a sheet pan.

Once the oven is heated, place the eggplant in the oven for 5 minutes. Then, flip them over and bake another 5 minutes.

Remove from oven and set aside.

Cook the marinara sauce

Heat pan with 1 tbs of oil. Once heated, put garlic in until golden brown. Then, add onions.

Saute garlic and onions until onions are fully cooked. Then, add tomato puree (or crushed tomatoes) and tomato paste.

Stir ingredients together. Let it bubble. When it starts to bubble, turn the heat down to medium-low.

Add in Mama Lam's Hot Sauce, agave nectar, dried oregano, salt and pepper. .

Let it simmer for about 10-15 minutes and then set aside.

Put together the dish

Reheat the oven to 425 degrees F.

In a 11×14 pan, you'll put together the eggplant, sauce, and cheeses.

Bottom layer is a the sauce, then place the eggplants, the mozzarella cheese and then cover with parmesan cheese. Repeat until finished.

Cover the pan with aluminum foil and place in the oven for 25 minutes.