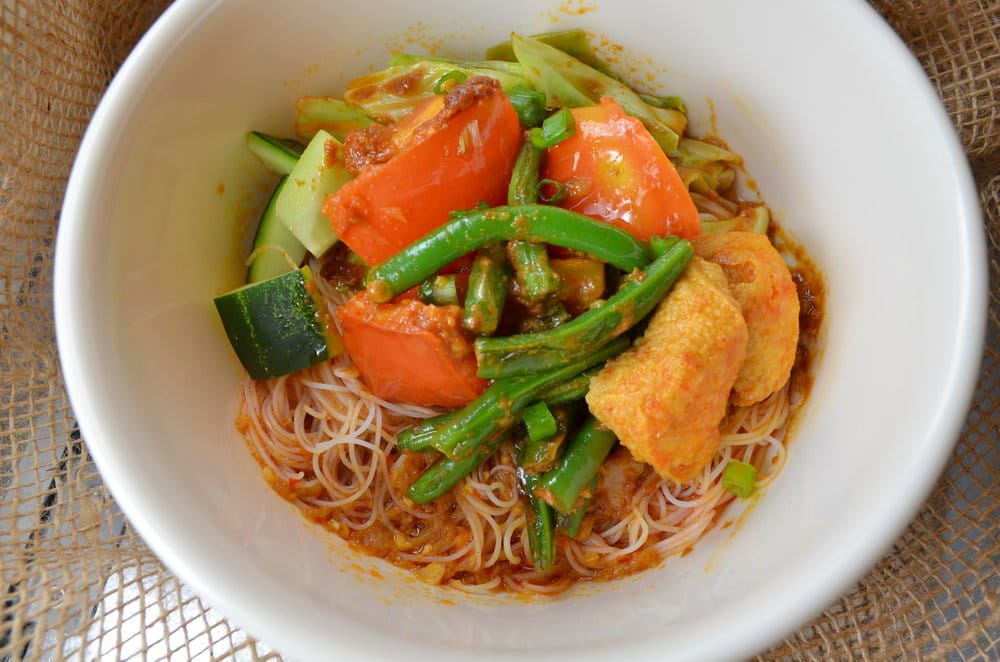 Servings: 2 people
Prep time: 10 minutes
Cook time: 20 minutes
Ingredients:
Broth
1 cup of water
1 cup of chicken broth
2 Tbs Mama Lam's Curry Paste
2oz Milk or Coconut Milk
Salt (if preferred)
Noodles
Use whichever noodles are preferred: Rice noodles, Udon, Vermicelli, etc.
Toppings
You can use anything as a topping – vegetable, seafood, poultry, beef, pork, etc. To make the topping more flavorful, we recommend cooking it with Mama Lam's Curry Paste. Try the Curry Chicken recipe and add to your noodle soup.
Scallions (if preferred)
Directions:
1. Boil water to cook the noodles as recommended. 
2. In a separate pot, boil the water and chicken broth together.
3. When the water/broth pot is boiled, add the curry paste and let it boil (covered) for 5 minutes. 
4. Add the coconut milk or milk and let boil for another 2 minutes.
5. Prepare your toppings – we recommend trying the curry chicken recipe!
6. In a bowl, place your noodles, then your topping, then pour the broth over the topping and noodles and sprinkle with some scallions. Enjoy!
Some Additional Tips
If you follow the instructions above, you'll soon have a very tasty noodle soup on your hands. But there are plenty of ways you can adapt the recipe to suit your taste and take it to the next level. Some additional tips to make the most of Curry Mee Malaysian Noodle Soup include:
Prepare your toppings in advance to save time.

You can substitute meat ingredients for vegetables or tofu to make a vegetarian dish.

Mama Lam's Malaysian Curry Paste is also available in a vegan variety, meaning you can make this dish suitable for vegans too.

Different toppings add to the flavor, so try some different varieties to find your favorite!

This is a great dish for using up some of your leftovers or for making batches to have again during the week. Simply double the ingredients to make some extra portions. It makes a great lunch to take to work for something hot and homemade.

Make smaller portions to have as a starter as part of a three-course meal.

Serve with bao buns or dumplings as tasty side dishes.

Coconut milk adds a rich, creamy flavor, but you could substitute with another type of milk (such as almond milk) to try a different flavor.
This is a simple and quick dish that's sure to impress, making this Curry Mee Malaysian noodle soup a winner. For a tasty midweek warmer, choose your favorite type of noodle, add your chosen topping and bon appetit! 
Malaysian cooking is packed full of flavor, with rich spices and ingredients. With dishes that are popular all over the world, you can bring a taste of Malaysia into your own home thanks to Mama Lam's. We've made it even easier to create some authentic, tasty Malaysian dishes, with plenty of great recipes you can use Mama Lam's Malaysian Curry Paste and Hot Sauce with to add further flavor.
Explore Mama Lam's full range of cooking sauces here, and take a look at our other recipes to enjoy even more wonderful Malaysian cooking.